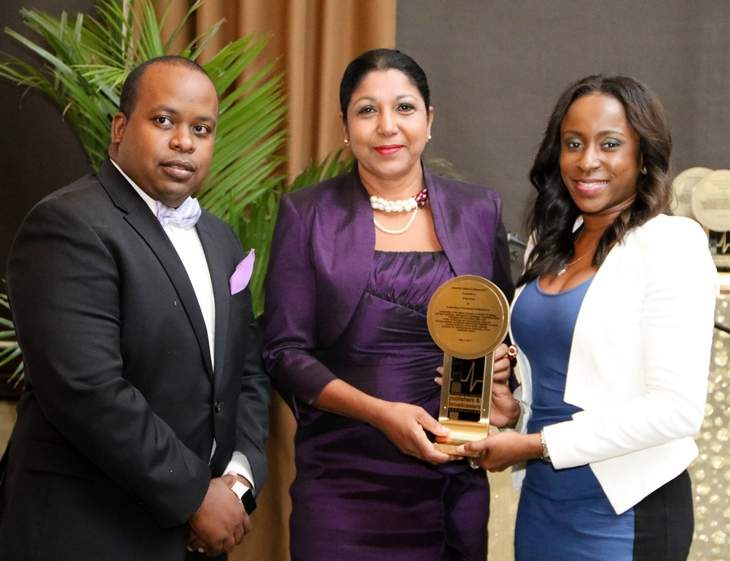 Awarded: Daren Lee Sing, president of the Trinidad and Tobago Publishers and Broadcasters Association (TTPBA), Shida Bolai, centre, awardee for Media ­Excellence, and Tricia Henry, public relations manager of title sponsor Huawei, pose at the TTPBA's annual dinner and awards for media excellence at Jaffa ­restaurant, Queen's Park Oval, Port of Spain, on Wednesday night.
Mergers and acquisitions and lower taxes will help the news media better fulfil its role in this democracy, economist Dr Terrence Farrell said Wednesday night.
Speaking at the Trinidad and Tobago Publishers and Broadcasters Association (TTPBA) dinner and awards at Jaffa restaurant Queen's Park Oval, Port of Spain, Farrell was quick to say, however, the Economic Development Advisory Board (EDAB), which he has been chairing since November 2015, will not be making the lower-tax recommendation any time soon.
After spending most of his speech bashing the media before an audience of mostly media owners and senior managers, Farrell said: "So what is the answer? On balance, I think that some consoli­dation of the media industry is warranted. The plurality of voices allowed by over 35 radio stations, several local television channels, three daily newspapers, and several weeklies, has not, in my view, created more light and more debate, but has contributed to more noise, heat and conflict and lowered standards generally."
He continued: "We are likely to gain more than we lose by consolidation. Media owners and publishers should recruit and train the best editorial people they can find, and seek to maintain a creative tension between the needs of the business as a business, and standards of journalism—the kind of creative and productive tension which Ken Gordon and Owen Baptiste managed to achieve at the Express and which, by contrast, the Guardian was never able to achieve."
LOCAL media houses are again being encouraged to consider the option of self-regulation so as to steer them away from litigation and lack of credibility as a result of stones the publish onair... 
Read more: http://thevoiceslu.com/2017/01/media-urged-raise-bar