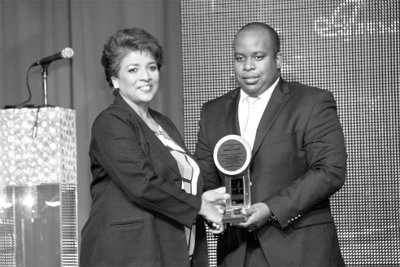 Treasurer of T&T Publishers and Broadcasters Association (TTPBA) Darren Lee Sing presents Caribbean New Media Group (CNMG) news presenter, Sandra Maharaj, with an award on behalf of Barbara Assoon at the association's annual dinner at the Hyatt Regency, Port-of-Spain, on Thursday night. PHOTO: ANDY HYPOLITE 
The T&T Publishers and Broadcasters Association (TTPBA) is making strides to uphold press freedom in the country. So said TTPBA president Kiran Maharaj during her address on Thursday at the organisation's ninth annual dinner and awards for media excellence at the Hyatt Regency, Port-of-Spain.
The awards were presented to long-serving actress and media presenter Barbara Assoon and veteran Trinidad-born British-based broadcaster Sir Trevor McDonald. She said: "I am happy to let you know that the TTPBA has been making strides.
"Last year I spoke about the Data Protection Act and the fact that we would lobby and try to get it amended.
"I am happy to report that earlier this year I met with the Attorney General (Anand Ramlogan) and he has formally written to the TTBPA stating: 'I am pleased to inform you that Cabinet has already agreed to an amendment of the Data Protection Act to create an exemption for investigative journalism in Part Four of the act.'"
She also said Prime Minister Kamla Persad-Bissessar and Ramlogan met with members of the International Press Institute and had agreed to work towards the abolition of the Criminal Defamation Act. Maharaj said another matter of concern for the organisation was the issue of one hour a day to be set aside for government programming. She said there was a difference between government programming and public interest.
"It puzzles me why there seems to be a brazen approach to this airtime issue," Maharaj said. The association's treasurer Daren Lee Sing said T&T was the centre of international media focus when the IPI World Congress was hosted last June by the TTPBA and the Association of Caribbean Media Workers (ACM).
Assoon was unable to attend the event to accept her award as she was incapacitated by the flu virus. McDonald sent a recorded message and apologised for his unavoidable absence. He said it was a "great honour" to be recognised by his peers and by his own people and he was proud to have met some of the finest people in the industry.